Site: Shodoshima | Kagawa, Japan
Explore Shodoshima, the Quiet Pulse of the Seto Inland Sea
Sitting like a monolith in the Inland Sea between mainland Honshu and the island of Shikoku, Shodoshima (Shodo Island) flies under many a radar. It is generally unexplored by foreign visitors, given the pull of the art islands and Shikoku's deserved ever-growing lure.
Shodoshima's population hovers just above 13,000 people; 2% are from more prominent regions of Japan (in size and population), which is demographically uncommon and points to something attractive about the island.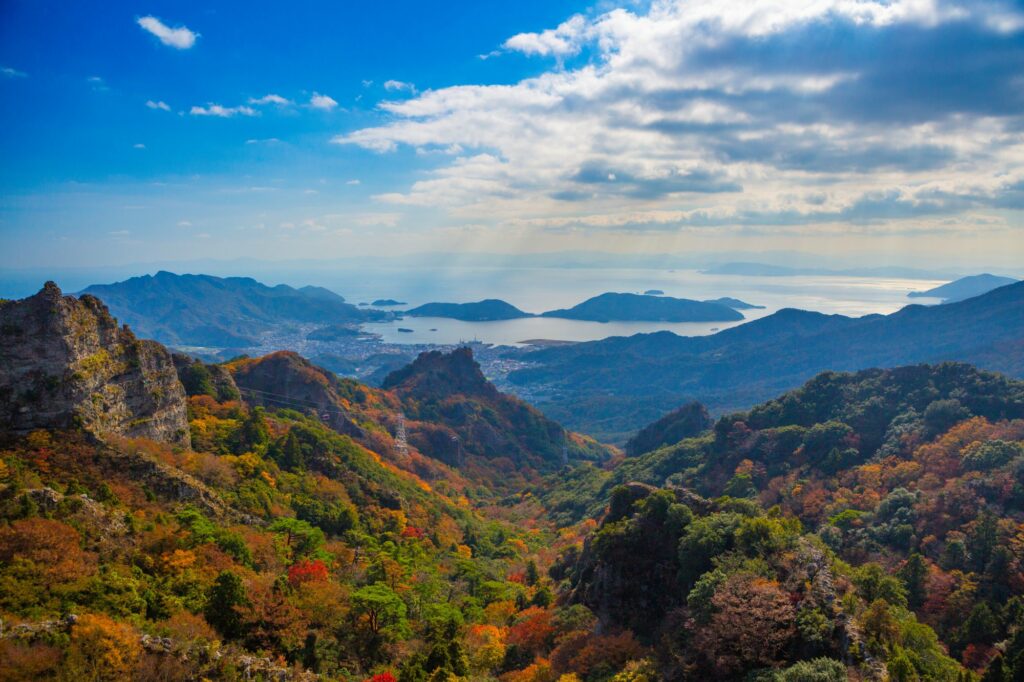 It could be the energy. For its size, Shodoshima's industries have a disproportionately outsized impact on the region locally and Japan nationally, and a long history of such activity. Its legacy of carefully brewed soy sauce alone is worth the trip. Traditional brewing stretches back over 400 years to the Edo period, and today, Shodoshima remains one of the country's premier producers of high-quality soy sauce. (One of the producers, Yamaroku Shoyu, was documented in the famous 2018 Netflix series Salt, Fat, Acid, Heat) Before soy sauce, salt was a primary export. Centuries of restless productivity have resulted in more ports along Shodoshima's coast relative to its size than nearly anywhere else in Japan. 
Today, the island is most famous for its olive oil. As Japan's top producer in quantity and quality—and the site where olives were first successfully cultivated in Japan—the humble olive is the island's symbolic fruit (and mascot).
Boats are the prevailing mode of transportation used daily for work, school, shopping, etc., and offer easy access to the island from the mainland, Shikoku, or any other island peppered throughout the Inland Sea. Despite some of the inconveniences of seafaring commutes, locals find it a negligible price to pay for the benefit of living there.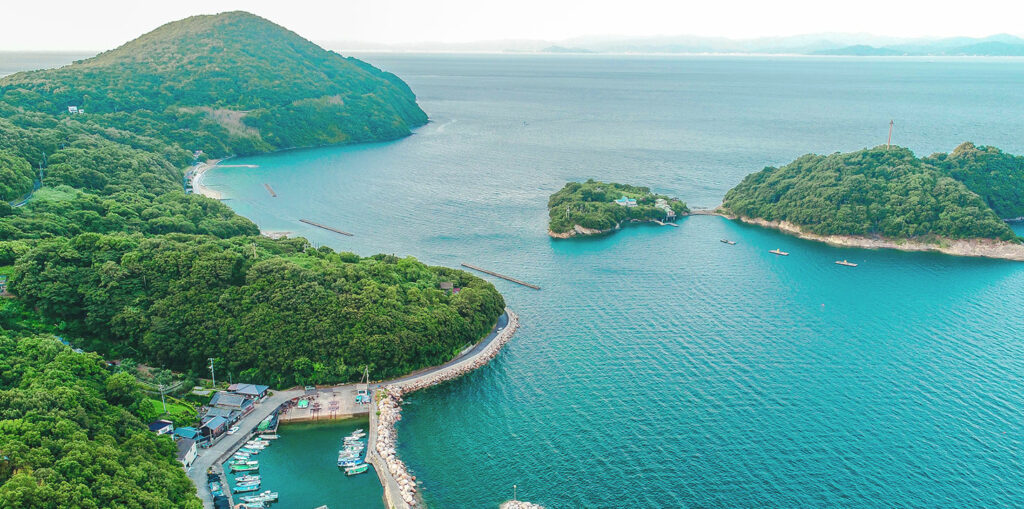 Part of the island's appeal for travelers is that it is not built around international tourism; you can sink into the moment, enjoy time spent unhurried, and feel authentically engaged with the people and local enterprises. So, should you venture to the island of olives (and so much more) next time you're in Japan, here are some highlights to look forward to.
Kankakei Gorge
Kankakei (寒霞渓, Kanka-kei, literally 'cold mist valley') is a nationally designated Place of Scenic Beauty. The gorge was formed by a volcanic eruption more than 13 million years ago. It is known for its breathtaking scenery, with various trees and plants, including maple, cherry, and Japanese zelkova, lining the valley's steep walls. It's particularly popular in the autumn when the leaves of the trees change color, creating a stunning display of red, orange, and yellow. In 1927, Kankakei was selected as one of the 100 Landscapes of Japan.
 Island Cycling
Shodo Island is a small yet hilly island with little traffic (though you should always exercise caution when cycling, especially along the island's narrow roads). It is an excellent haven for cyclists, with views of the Seto inland sea from practically anywhere. The cycling route around the island is approximately 150 kilometers long, and several bike rental shops are located near the ferry terminal in Tonosho, the island's main port. Visitors can rent bicycles and explore the Shodoshima at their own pace.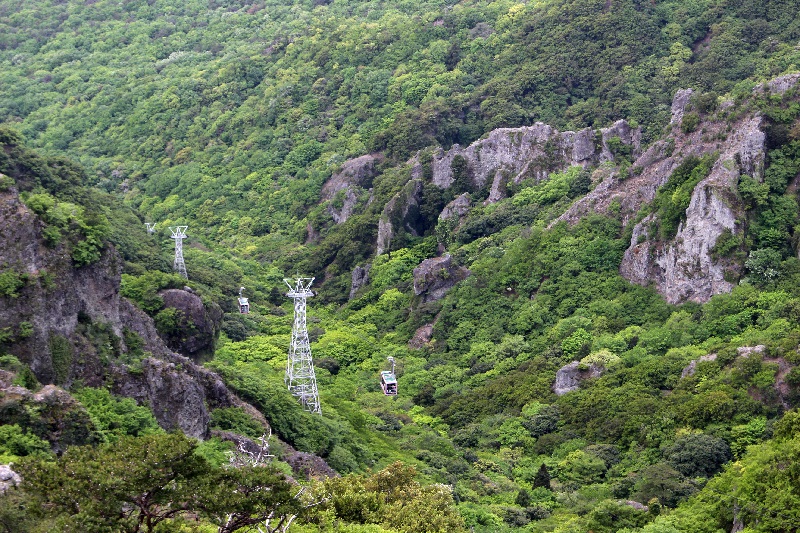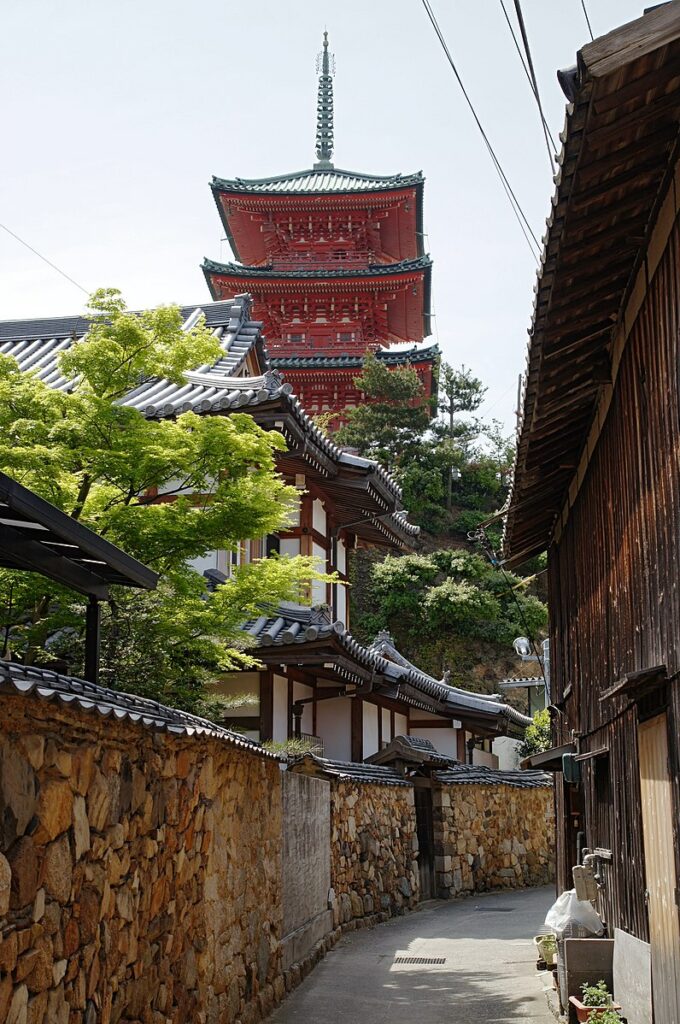 Hishio no sato (Soy sauce production)
Shodoshima is known for its soy sauce production, a traditional industry on the island since the Edo period (400 years ago). The island's climate, geography, and soil are ideal for growing soybeans and producing high-quality soy sauce. Yamaroku Shoyu (mentioned above) has been brewing high-quality artisanal soy sauce using traditional methods for over 150 years, using only natural ingredients and no additives or preservatives, and large wooden barrels made from Japanese cedar. The cedar wood imparts a unique flavor to the soy sauce and helps regulate the fermentation process, which takes at least two years, with some varieties aged up to 10 years. We highly recommend the soy sauce soft cream available outside the brewing facility.
Shodoshima's 88 Temple Pilgrimage
A microcosm of Shikoku's more illustrious version is Shodoshima's very own 88-temple pilgrimage loop. On foot, the Shodoshima 88 takes about a week (whereas the Shiikoku 88 Temple Pilgrimage can take up to six weeks on foot). The route offers 360° views of the Seto Inland Sea as you circumnavigate the island. One of the most striking features of the pilgrimage is the existence of stone temples built at the base of rock faces and within caves–starkly contrasting the mountainous, earthy, and wooded environments of so many temples and shrines. Such geologic temples feature spiritual carvings in power stones in unique meditative settings.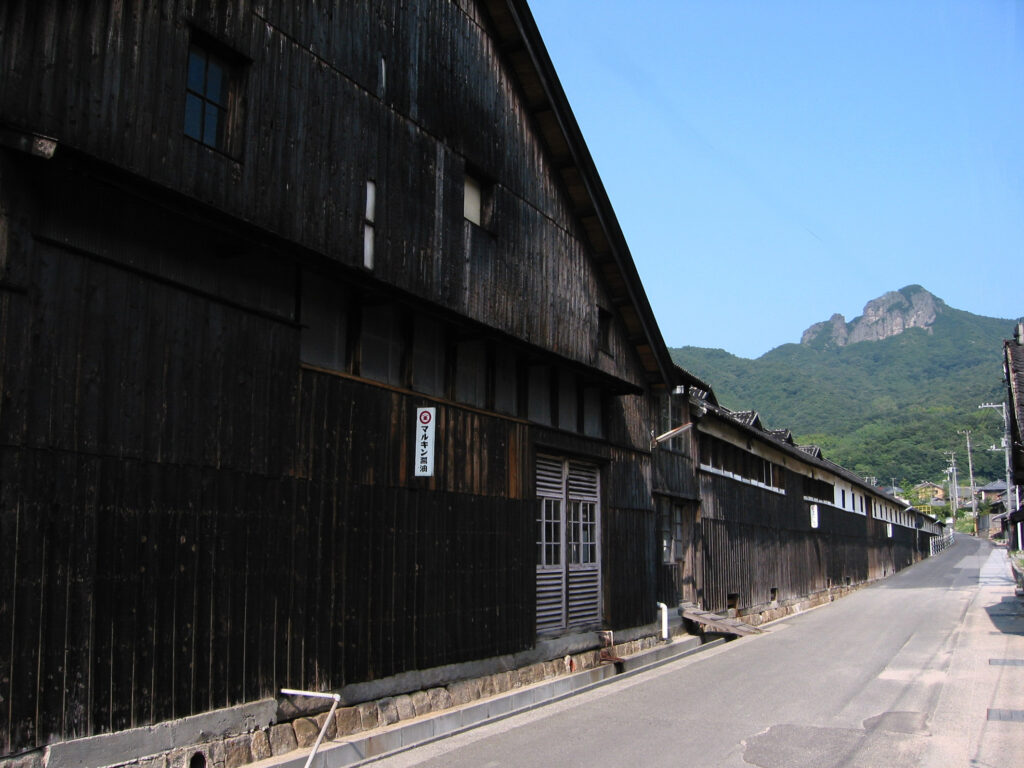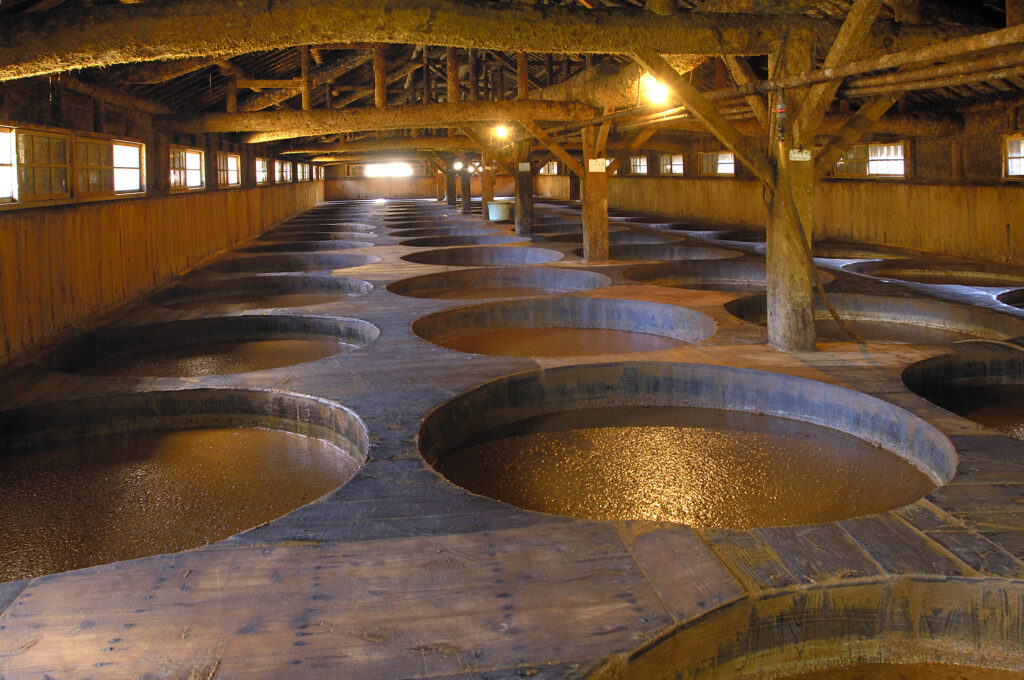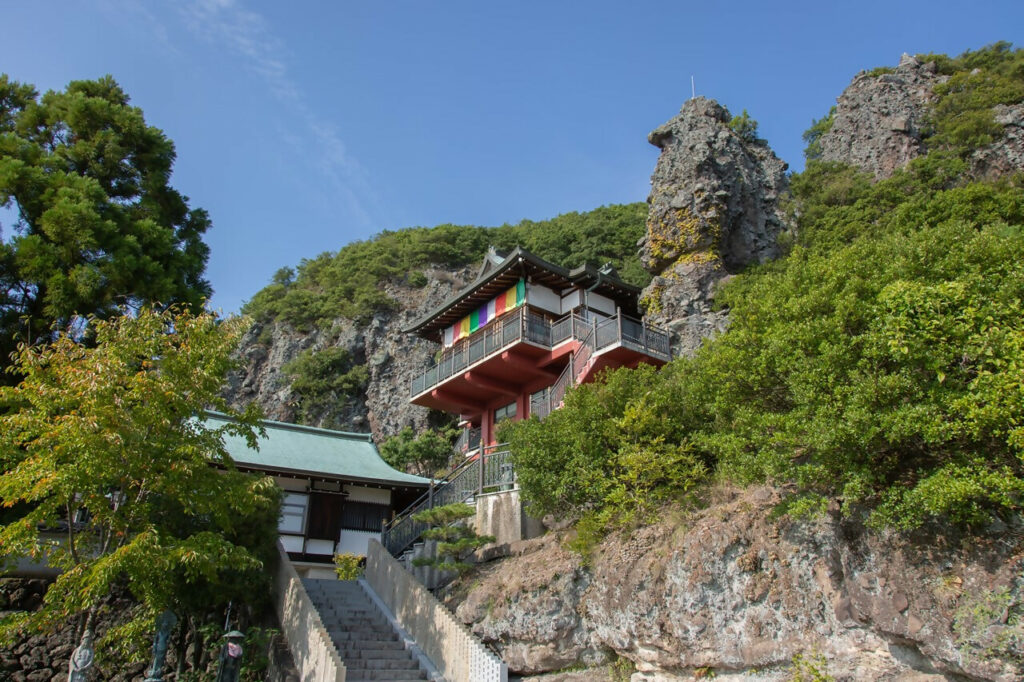 Umioto Mari & Shimayado Mari
Both small ryokan are locally owned, and their hospitality reflects the warm and relaxing personality of the island. Either stay makes an ideal home base.
Umioto Mari is on the coast, and the six rooms have beautiful Seto Inland Sea views. It is a newer building designed in a modern Japanese style and features a bath with sea views in every room. In addition, their original olive kaiseki (traditional seasonal multi-course meal) dinner is a taste of the island in each dish.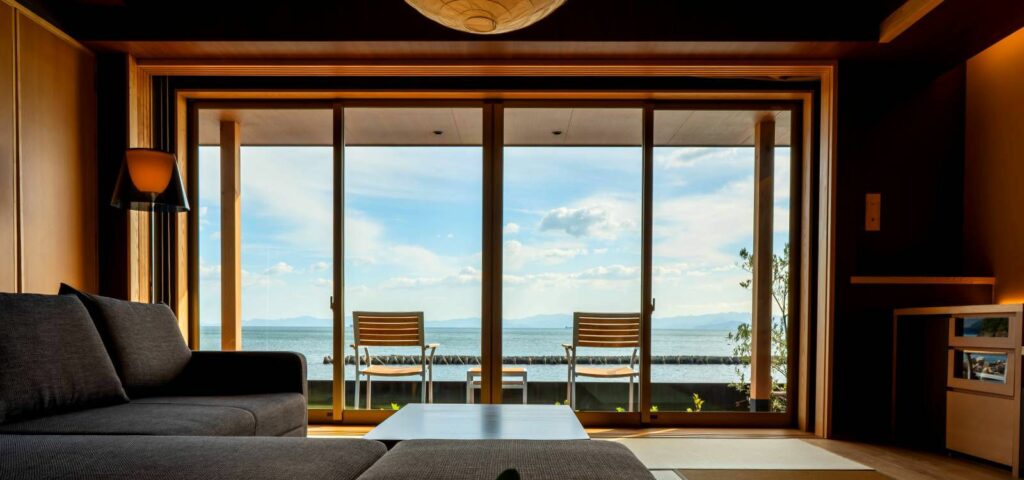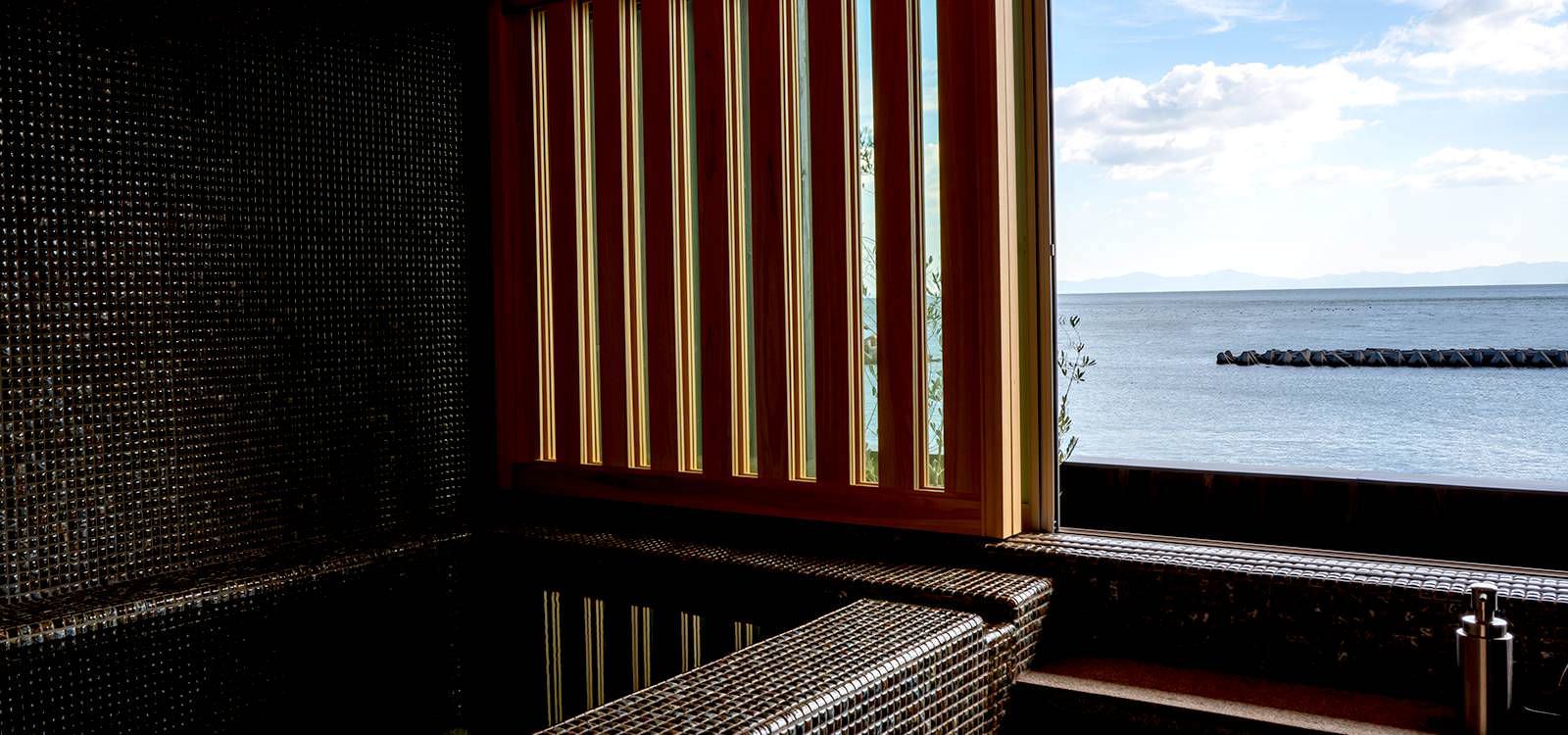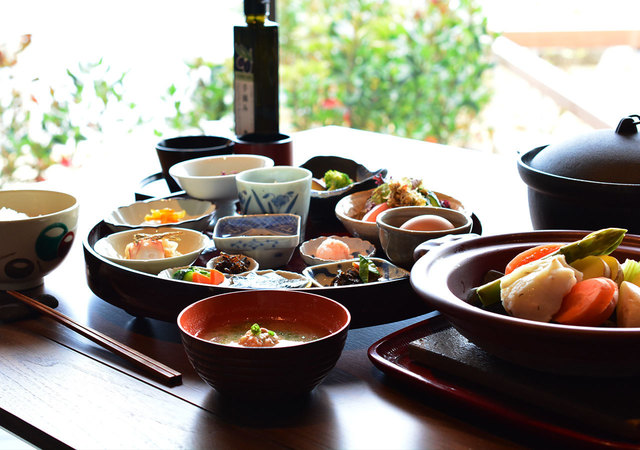 Shimayado Mari is the original ryokan located next to the historic hishio no sato (soy sauce district). The tastefully renovated rooms (8 rooms total) include a kura (traditional storehouse) room (which the government has recognized as a historically significant Registered Tangible Cultural Property), giving you a sense of the long history of this small town. All private onsen have the status of gensen kakenagashi, an elite designation for the purity of the waters and proximity to the hot spring source. Shimayado Mari's original soy sauce kaiseki dinner will change your concept of soy sauce.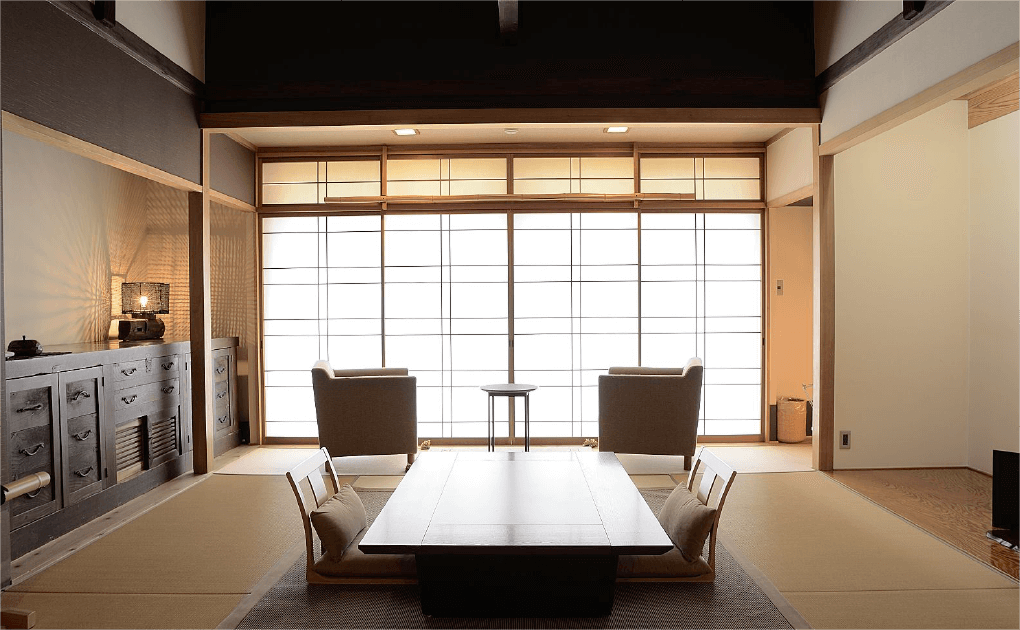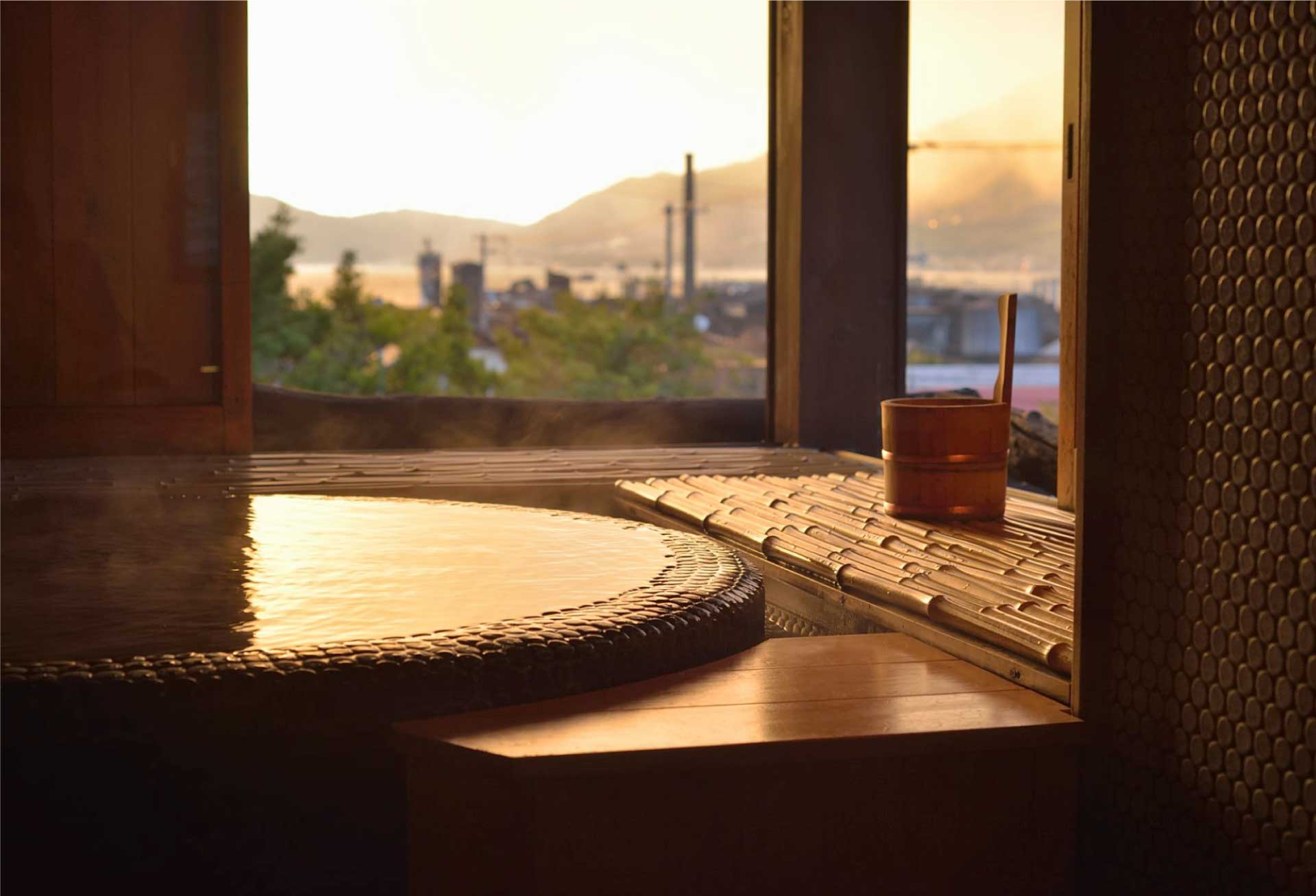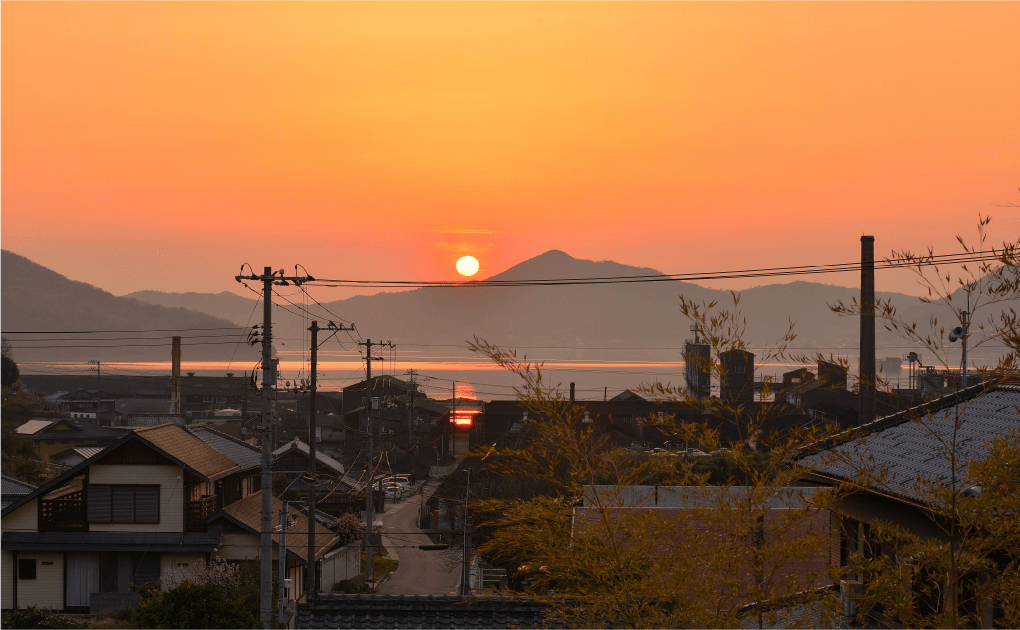 Delicious Island  Tastes
One of the keys to understanding Shodoshima is through our sense of taste. As mentioned, olive oil is essential to its history (alongside soy sauce), especially today. The brick-and-mortar boutique, Inoue Seikoen, sells bottles of olive oil and olive-oil-based cosmetics and has an attached restaurant. The adjacent olive garden offers easy walks among the olive trees, leading to the iconic windmill from Miyazaki's endearing film, Kiki's Delivery Service. But somehow, despite the centrality of the olive to Shodoshima's identity, the island's even more commercially significant oil commodity has not enjoyed nearly the same degree of celebration: sesame oil.
The brand, Kadoya, is a household name throughout Japan. It is synonymous with sesame oil but not its island of origin, Shodoshima. Kadoya has been in the sesame oil business for over 160 years and, until very recently, produced 100% of its oil on the island. Astonishingly, Kadoya produces sesame oil for the domestic Japanese market and globally, with a significant percentage of Japanese sesame oil consumption in North America going to the Shodoshima producer. The oil is also connected another famous local export, hand-pulled somen noodles.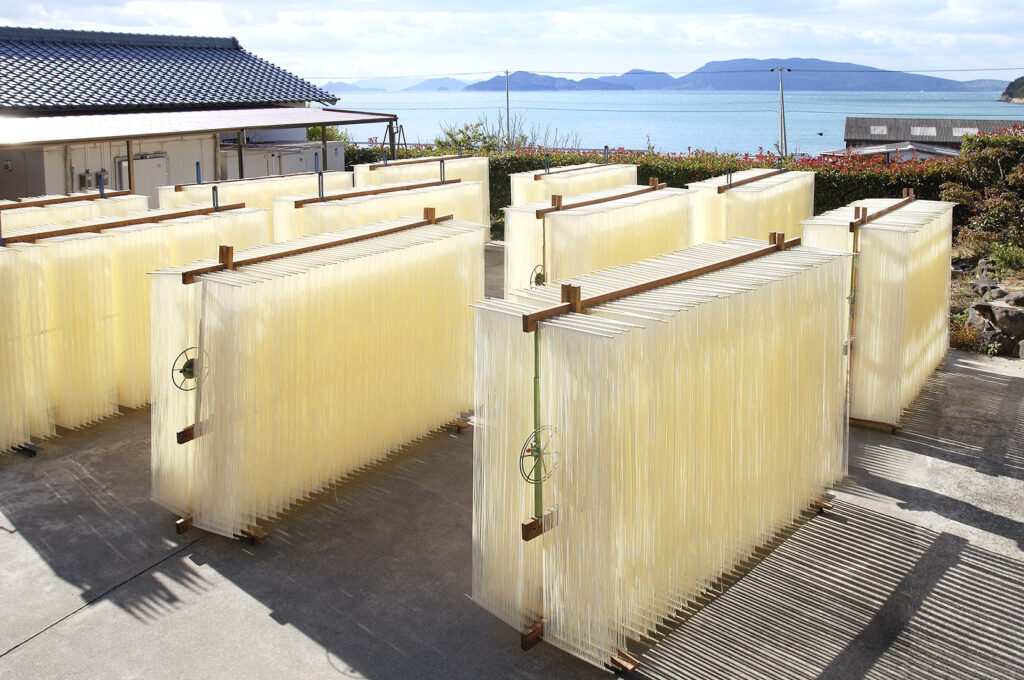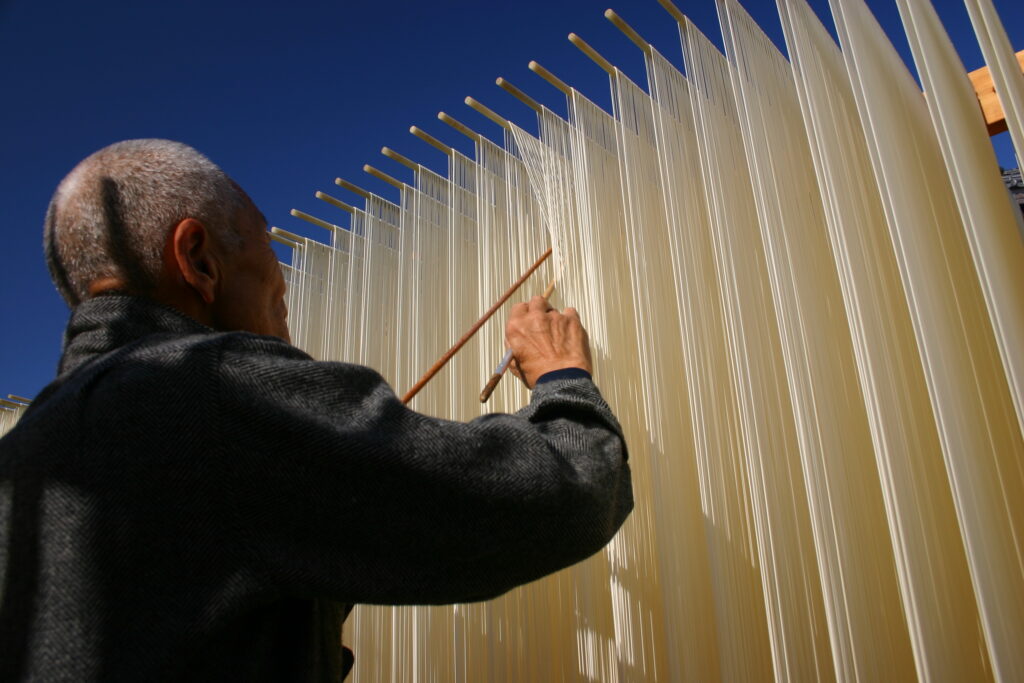 The fourth prominent labor of love (in addition to soy sauce, olive oil, and sesame oil) is the meticulous, labor-intensive production of the thin wheat-based somen noodle. Made as they have been for centuries (Shodoshima's more than 400-year history of somen production parallels its history of soy sauce), Shodoshima somen noodles are hand-pulled and sun-dried. With plenty of sunshine year-round, the island's climate makes it ideal for drying somen. And physically pulling raw noodles requires sesame oil for lubrication, which gave rise to Kadoya sesame oil, to begin with.
Contact us for further inquiries, recommendations, and more information about your travel plans throughout Japan.